Lawmate PV-EP10W Covert Wi-Fi Mini DVR and Mp3 Player
Lawmate PV-EP10W Covert Wi-Fi Mini DVR and Mp3 Player
Lawmate PV-EP10W is a new autumn 2018 Wi-Fi recorder that looks like headphones and also works as an Mp3 player.
It is an ideal product for indoor and outdoor surveillance, as it can easily blend in with any style that includes gadgets.
Product details
The headphones are designed in a way that the Right side is made for the recording purposes. There you can set up the Wi-Fi, recording On/Off, and power the device On/Off.
The Left side is reserved for the Mp3 player and offers all the needed functions including track changes.
The overwrite function and the included 16 GB SD card make it possible to record only what is needed. The device also comes with the Continuous and Motion detection recording options. You can use the device manually, or via the smartphone application.
PV-EP10W Main Features:
Works as a real

Mp3 Player

120 minutes recording time with overwrite function

Also has

Continuous

and

Motion Detection

mode

Wi-Fi

based stand-alone DVR: Record, stream live video and playback on free App

1920x1080

video resolution and up to 30fps

LED indicators on both sides to show device status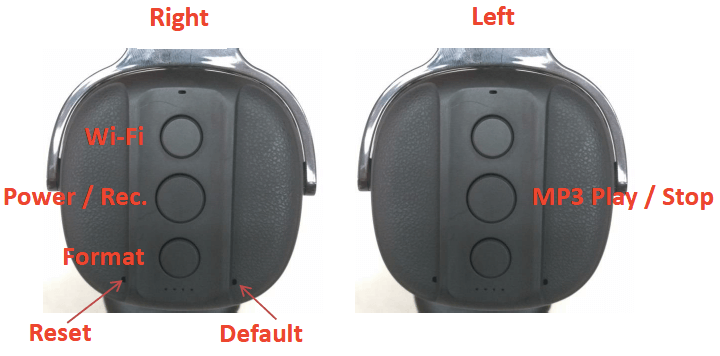 PV-EP10W Illustration from the guide.
PV-EP10W Full Specifications:
Built-in Image Sensor: 1/3" progressive CMOS sensor
Sensor Resolution: 2304x1536
Sensor Sensitivity: 3.3 Lux @ F 2.0
Lens F/No; F 3.2
Focal Length: 4mm
Angle of View: 66°
Algorithm: H.264, JPEG
File Format: MOV, JPG
Video Recording Mode: Manual
Recording Capability: 1920x1080
Frame Rate: Up to 30 fps
Photo Capability: 5M (2952*1944)
Wi-Fi: Built-in Wi-Fi Module(IEEE 802.11b/g/n)
Wi-Fi Protocol: RTSP
Memory Type Memory Card: Comes with 16 GB SD Card ( Support up to 32 GB)
Data Interface: Mini USB 2.0
Date/Time Table: YYYY/MM/DD, HH:MM:SS
Snapshot recording and playback video:(via smartphone)
Power Input: DC 5V
Power Consumption: 340mA-400mA(Wi-Fi OFF)(Wi-Fi ON+80mA)
Charging Time: 150 min(580mA*2)
Battery Input: DC 3.7V / 1100 mA high polymers battery(XK503040*2)
Battery Lifetime: Continuous recording 100min (Wi-Fi ON) /1 20min (Wi-Fi OFF)
Recording time: 160 min @ 1920x1080 resolution ( 16GB memory card )
Vibration Alert: Power on/off, Recording, Low battery
Dimension: 155x178x74.2mm
Weight: 190g
File Format: MP3 (WAV)
Memory Type: Built-in storage 4GB
Data Interface: MICRO USB 2.0
Power Input: USB 5V
Power Consumption: 18mA-25mA
PV-CAM iOS and Android apps for Lawmate Wi-Fi recorders: